Total Lunar Eclipse on September 16th, 1997
---
Total Lunar Eclipse occured on 1997 Sept.16. But, unhappily, almost japanese could not watch it because the 19th typhoon was hitting our country. We went to Miura peninsula (in Kanagawa pref., south of Tokyo), but we could not observe this event.
Following images were taken by Masakuni Yamazaki. He is a member of our sub group in Fukuoka. He observed at Yame city (in Fukuoka pref.) after the typhoon passed.
---
Images
Common Data

Telescope : TAKAHASHI FS102(D=102mm,f=820mm)+Vixen PL-26mm
Film : Fuji-color Super G Ace 400(ISO=400)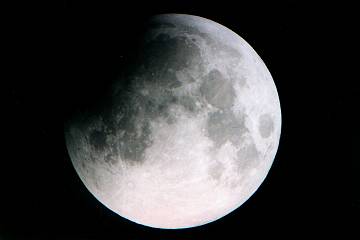 2h10m(JST),17h10m(UT)
Eclipse magnitude:0.03

Exposure:1/125sec.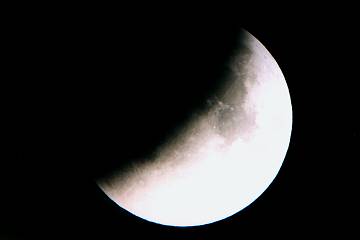 2h35m(JST),17h35m(UT)
Eclipse magnitude:0.44

Exposure:1/60sec.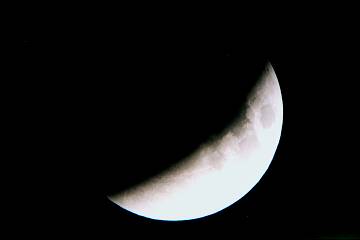 2h50m(JST),17h50m(UT)
Eclipse magnitude:0.66

Exposure:1/30sec.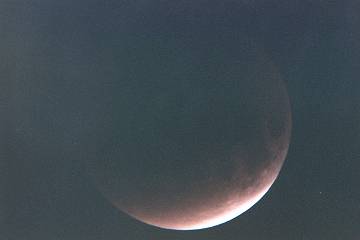 3h12m(JST),18h12m(UT)
Eclipse magnitude:0.96

Exposure:1/2sec.

Cloudy.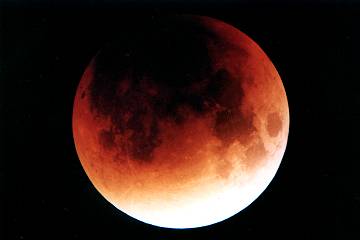 3h16m(JST),18h16m(UT)
Eclipse magnitude:1.01

Exposure:9sec.


Color
Mr. Yamazaki observed the Danjon Luminosity. His estimation was L = 3.5 (at beginning of totality).

The Danjon Luminosity;

L=0:Very dark eclipse ; Moon almost invisible, especially at mid-eclipse.
L=1:Dark eclipse, gray or brownish coloration; details distinguishable only with difficulty.
L=2:Deep red or rust-colored eclipse, with a very dark central umbra and the outer edge of the umbra relatively bright.
L=3:Brick-red eclipse; usually with a bright or yellow rim to the umbra.
L=4:Very bright copper-red or orange eclipse; with a bluish very bright shadow rim.
Accordingly, his estimation "L=3.5" is very bright eclipse. (But it was at starting of totality. Unluckily, the weather changed to rainy after that time.)
---