1997 November 7 occultation of PPM 45832 by Asteroid Diomedes
---
I observed 1997 November 7 occultation of 7.3-mag. PPM 45832 by (1437) Diomedes at Fuchu-city of Tokyo.
The period from disappearance to reappearance was 4.9 sec.
Following is my detailed data.
---

Asteroid  :No.1437  Diomedes
Star      :PPM 45832 (7.3 mag.)
Date(U.T.):7th Nov. 1997
Observer Name:Mikiya Sato

Telescope:
    Aperture:12cm Focal, length:720mm, Type:Newton, Eyepiece Power:x18
Observing site name: Futyu City Tokyo Japan
    Longitude:139d 28' 45" E
    Latitude : 35d 40' 43" N
    Height above sealevel:60m
    Map 1/25,000(Tokyo Datum)

Sky Transparency    :Fair
Star Image Stability:Fair


EVENT TIMINGS:  (U.T.)

  Started Observing:09h24m00. s 
  Disappearance:    09h29m56.0s (Gradual)
  Reappearance:     09h30m00.9s (Sure of event)
  Stopped Observing:09h33m00. s 

Time Source:JJY
Recording method:Voice & Tape Recorder


---
This event was observed from several stations around Tohoku district and Kantou district (including Tokyo) in Japan.
Following figure is arranged by Toshio Hirose. (Thanks for his arrangement.)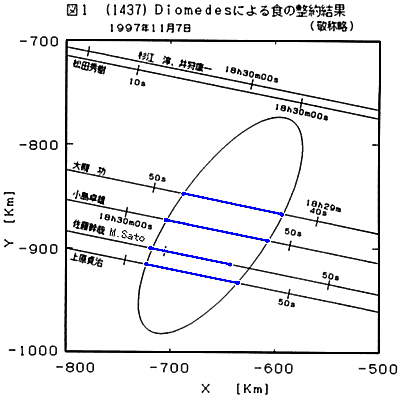 ---
Link
This pege is one of pages in BAA(The British Astronomical Association). Please look at "RECENT OCCULTATION NEWS AND SUCCESSES"!
---