---

The Iridium Satellite is sometimes glinting. This magnitude is about -6 or -7 magnitude. This event is called "Iridium Flares".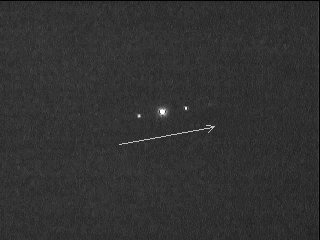 Flare of iridium-54
(On May 28, 1998)

I could observe the event through thin clouds. The Flare was about -6 magnitude.
The right image is composed of 5 video images at intervals of two secons.
Real Movie
Image Data
Video Camera : Victor GR-DVX (Disital Video Camera)
Date : 1998.5.28 11h00m17s-31s(UT).
Exposure : 1/6 sec. (x10)
Copyright : Mikiya Sato (FAS)
Link to Prediction of Heavens-Above
If you live in Japan, this page makes the link to Heavens-Above.

---
LINK
---
FAS HOME PAGE